Kbelska 10 2015
Photos from the race Palestra Kbelska 10 2015 are categorized and ready to view and order directly here. The whole event ran children and ran from 11:30 this running season in beautiful sunny weather.
Commemorative certifikat is ready for everyone. Just select your photos and we will add the name and time according to the result list.
Race results Palestra Kbelska 10 in 2015 can be seen here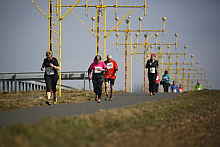 Search
Seach instructions:
Photos from the race Kbelská 10 2015 are categorized according to the starting number of each competitor, it means that the line Search: Search a specific starting number. For scans worth all runners illegible starting number after photographing, organizers, start the race, space finish and background, publication mined and, of course children's races are not numbered, so it is necessary to go through all the photos :o)
Fill the keyword in following form field according to given instructions. If you want to show all photos from this event, leave the field empty. There are 7695 photos for this event.