BABY tennis Klatovy March 2019
The tennis tournament of the youngest hope of this sport took place in the inflatable hall in Klatovy 09_03_2019.

Ordering one child in any number of photos - is for 1500, -CZK.

Simply write a hromadná in the note, then manually repair it and the price will be 1500, - for the entire order. Payment must be made by credit card or transfer. It only applies to data files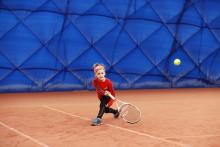 Search
Seach instructions:
Photos of baby tennis klatovy are already broken down by name. Simply click on the name you want and all the photos will appear.
Benjamin, Šimon, David, Anna, Alena, Jan, Liliana, Filip, Jáchym, Tadeáš, Vojtěch,
Ordering one child in any number of photos - is for 1500, -CZK.
Simply write a
hromadná
in the note, then manually repair it and the price will be 1500, - for the entire order. Payment must be made by credit card or transfer.
It only applies to data files
Fill the keyword in following form field according to given instructions. If you want to show all photos from this event, leave the field empty. There are 1230 photos for this event.