large swimming pool Sušice - courses spring 2019
Photos of swimming courses for children, adults, swimming pool and sports academy. Everything in the large pool.
There is, of course, a possible personal take-off of photos at the pool reception. Upon completion of the order there is a possibility of personal collection - it is paid in advance by transfer or by payment card. This option is until April 25, 2019, then the photos will be delivered by post.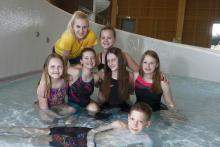 Search
Seach instructions:
Photos from swimming pools in the swimming pool under water and on the surface are sorted into groups according to the start of the course. Just click the orange link to start the course and choose .o)
Monday 08.04.19 15:00, 16:00, 17:00, 18:30
Tuesday 09.04.19 14:00, 15:00, 16:00, 17:00, 18:30
Wednesday 10.04.19 elementary School, 14:00, 15:00, 16:00, 17:00, 18:00
Thursday 11.04.19 15:00, 16:00, 17:00, 18:30
Fill the keyword in following form field according to given instructions. If you want to show all photos from this event, leave the field empty. There are 2698 photos for this event.