VelkŠ kunratickŠ 2011
Photos from the race VelkŠ kunratickŠ 2011, 78 grade this fall Cross bikes are on display and order here. This year the weather was nice, water fords not much, so nothing to prevent the track competitors and released thousands of athletes. O))
The results of large KunratickŠ 2011 here
This year is the opportunity to order commemorative certificate for a difficult race.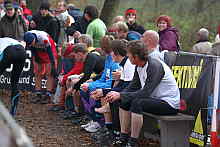 Search
Seach instructions:
Photos of the race Velka kunraticka 2011 were categorized according to the starting number of each competitor, which means that the line Search for: Search enter the starting number. Competitors with less than a three-digit starting number for the option I recommend a strict search method. Another option to view the images by clicking on the orange words in this text and you will see a group of images directly below them hidden. The largest group of photos are all those who were photographing the illegible number, whether climbing the castle, or covering hand .. definitely worth a look here. Another group of photos are the organizers, spectators, not only ©umava nature, and of course photos of the embedded plant Velka Kunraticka without barriers, was also full of the track.
Fill the keyword in following form field according to given instructions. If you want to show all photos from this event, leave the field empty. There are 23704 photos for this event.