Okoloplzne 2012
Pictures from Sunday's main race AIMTEC OPEN RACE OKOLOPLZNE 2012 are ready to view and order directly here. The whole background was no longer a fixed location on the St.. George, a large meadow where the start, finish, facilities for refreshments and entertainment. This year the track has undergone some interesting changes and enrichment of the fords on the route ...
Results AIMTEC 2012 OPEN RACE OKOLOPLZNE be viewed zde
Photo Okoloplzne 2011, 2010, 2009 and from the AIMTEC Open Race 2009
.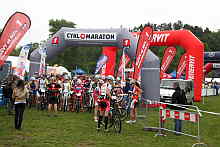 Search
Seach instructions:
Photos of the race AIMTEC OPEN RACE OKOLOPLZNE 2012 loosely categorized according to are the starting number of each competitor, which means that the line Search Text: Search enter a starting number. Competitors with less than double-digit recommend starting number to use strict search method. Another possibility is viewing photos, click on the orange words in this text and you will see a flat band images hidden underneath. Start, nature, all who were photographing the illegible number.
Fill the keyword in following form field according to given instructions. If you want to show all photos from this event, leave the field empty. There are 2851 photos for this event.