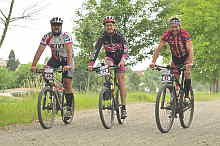 Photos from the race Houstecky cyklomaraton 2014 are ready to view and order directly here. One of the most popular races, cool your profile and fluffy again succeeded excellently.o)
Results Houstecky cyklomaraton 2014 for consultation zde
Photo Houstecky cyklomaraton 2013, 2011, 2010, 2009, 2008, 2007
Photos of the race Houstecky cyklomaraton 2014 loosely categorized according to are the starting number of each competitor, which means that the line Search Text: Search enter a starting number. Competitors with less than double-digit recommend starting number to use strict search method.
Fill the keyword (usually competitor number) in following form field according to given instructions. If you want to show all photos from this event, leave the field empty. There are 1630 photos for this event.
Need help with search? See our help page.