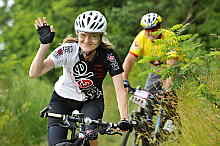 Photos from the race strong>Houstecky cyklomarathon 2013 are categorized and ready to view right here. Beautiful weather on Saturday and the tenth year of inexpensive MTB Marathon lured all bikers around Stara Boleslav. the choice was again the three tracks.
Results from Houstecky cyklomarathon 2013 see here
Photos of the race Houstecky cyclomarathon 2013 loosely categorized according to are the starting number of each competitor, which means that the line Search Text: Search enter a starting number. Competitors with less than four-digit recommend starting number to use strict search method. Another possibility is viewing photos, click on the orange words in this text and you will see a group of photos directly below them hidden. All participants with illegible starting number and of course all the guys who went to HAND BIKE.
Fill the keyword (usually competitor number) in following form field according to given instructions. If you want to show all photos from this event, leave the field empty. There are 3056 photos for this event.
Need help with search? See our help page.