AUTHOR Kral Sumavy MTB 2011
Photos from this year's race AUTHOR Kral Sumavy 2011 are sorted and prepared for viewing and ordering here . Despite the earlier rain, Saturday was perfect weather for a large big bike ride. O) This year we have looked at you through the cameras at 10 locations along the route and I think that is a lot to choose from. O) This year we have prepared for you can order a commemorative certificate with your name and accomplishments over time.
Actual results can be seen here, moving pictures of the race can be seen on our Sumananetu and of course not a problem from the factory to order photos from outside the U.S. and DVDs from FILMpro, the cameramen to accompany you just about everywhere. o)
Photos from previous years 2010, 2009, 2008, 2007, 2006, 2005, 2004, 2003, 2002, 2001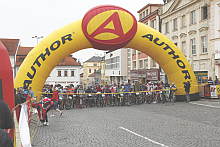 Search
Seach instructions:
Photos from the race Author King of Sumava MTB 2011 sorted by start number for each athlete, which means that the line Search for text: you wanted the starting number. The competitors with less than the starting number double digit We recommend using the strict search method. Another possibility is viewing photos, click on the orange words in this text and you will see a group of photos directly below them hidden. Competitors with illegible number , participants without number, additional vehicles and motorcycles, start and finish race, the Ford was a waterman, who cared for those who have fallen into the water and gave them something to warm up. Nature went way up and the audience.
The launch went, among others, our teamMTB Angels Klatovy and black horses without number.o(
Fill the keyword in following form field according to given instructions. If you want to show all photos from this event, leave the field empty. There are 17010 photos for this event.